Community Resiliency Model
Learn skills to stabilize the nervous system, reduce anxiety, anger and depression, assist in facing challenges, and create a renewed sense of hope for you and your family.
The Community Resiliency Model® (CRM) provides skills for self-care and to share with your community. It teaches you how to balance a nervous system impacted by personal or community-level trauma (such as violence, poverty, racism and homophobia).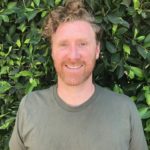 James Bigelow, MFA joined Echo in July 2017 as a trauma-informed, nonviolent parent educator and professional development trainer. He brings to Echo 17 years of working with children and families. James started his career working in group homes and for the last 10 years has worked in schools as a therapeutic behavioral specialist with students and their parents. He has been practicing nonviolent communication for the last 10 years and teaching it for five, including facilitating a weekly "Radical Empathy" practice group in Silver Lake. His background also includes teaching parenting classes as well as empathy (nonviolent communication) as an after-school activity in local elementary schools.