It's a pretty amazing image, isn't it? When Time released this issue, the blogosphere (and presumably conversations around water coolers everywhere) erupted with disgust, delight, celebration, creepiness, and more.
Some love it. Some hate it. Nobody seems ambivalent. People are really freaked out.
When I see this photograph, I have to admit… it's quite an impressive thing. That kid is three? How tall is he? He's huge! Probably got so big from eating too much you know what… I'm only kidding, just pointing out that this picture of a gargantuan toddler standing up to suckle isn't exactly the most common image of most nursing three year olds.
The photo doesn't explain that the child depicted here is a trauma survivor who was adopted by this heroic woman who happened to have just given birth to another baby when she got him, so luckily she could nurse him as well which was a great comfort and help to him in his recovery from the stress and fear of his early infancy… No, there's no explanation about this family. It is obviously intended to be provocative, and it's hard to argue that it didn't get the conversation going in a big way. Just in case anyone reading this is wondering, we at Echo Parenting & Education come down firmly on the side of science, as usual. Human milk, like the milk of other mammals, is appropriate for human mothers to feed their young until…
(get ready, drum roll please…)
…uh, until the mother and child are done. Sorry if that was anticlimactic. But we do know that "normal" human weaning – what most humans worldwide do – happens between two and seven years old. That's older than the average in U.S.,and it's also a big gap. It doesn't really answer the question about breastfeeding, and I don't intend to try to answer it. Yes, breast milk is nutritious for babies. Yes, mothers milk changes over time so toddlers get something different than newborns. Yes, it's totally NATURAL and not at all inappropriate, and YES, I'm personally all for nursing until baby and mom decide to stop. But I'm also very aware that many mothers have jobs and busy lives, some women have a hard time nursing for a variety of reasons, and there are numerous other factors to consider in each individual family. It's not up to ME or any other blogger or pundit to tell moms when to nurse or not.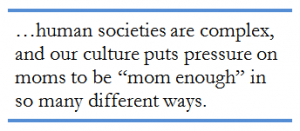 Which brings me to my critique of Time. I have no problem with the photo. I'm not offended or creeped out.
The caption, on the other hand, is troubling. It's printed in giant red capital letters. "ARE YOU MOM ENOUGH?"
Seriously? Is the implication supposed to be that "extended" breastfeeding (which seems to mean  nursing babies who are older than six months) is the "momliest" way to be? That you have to be a REAL MOTHER to do it, if you know what I mean… If you read the (only slightly) smaller print, that says "Why attachment parenting drives some mothers to extremes," you begin to get a different sense, something along the lines of "people like this tiny woman in the picture are extremists." In other words… they're wacko.
*sigh* Oh, Time. I hope you sold a lot of magazines. It's a great cover.
I'll try to sum up. Breastfeeding is wonderful for babies and mothers, and sure, we encourage it. Check out La Leche League for all the reasons to do it and for how to get support when it's hard. While it is true that mammals normally nurse until adult teeth come in, it's also true that human societies are complex, and our culture puts pressure on moms to be "mom enough" in so many different ways.
Some potentially conflicting messages for mothers:
1. Get a job. Stay at home mothers are ruining feminism.




2. Stay at home. Attachment parenting is crucial for your baby. If you don't nurse longer, you're ruining your kid.




3. Don't trust your own body or your baby. Breastfeed shorter or longer based on books and blogs and men.




4. Your breasts have a purpose, they are for feeding babies.




5. Your breasts have a purpose, they are for, you know, looking good in bikinis and stuff like that. (I'm getting a little carried away, I know. But I do believe that there wouldn't be folks talking about nursing toddlers being "sexual abuse" if they weren't overly eroticizing breasts. Not that they aren't very nice. But please. We're still animals who feed our young.)
I can definitely own up to my own bias here. I believe that women should be able to make decisions about their bodies (eat your heart out, Time, we're provocative too). My great hope is that decisions about raising children should be informed by as much information as is available. I think that attachment parenting – as expounded by Dr. Sears – with its extended breastfeeding, baby wearing, and co-sleeping, is a fabulous thing for families who have the resources to do it. For those whose circumstances prevent extended breastfeeding or any of the other methods we promote, I think we owe those families our support and love too. Let's try to put aside our judgement and offer ALL families unconditional support.
Yours,
Brian Joseph
Director of Teaching