Young Fathers Programs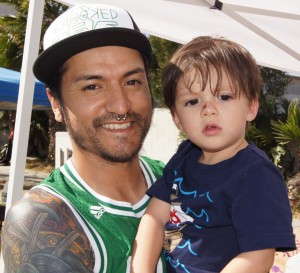 L.A.Fathers – a FREE program for young fathers, fathers-to-be and father figures, ages 15-25.  The program offers a 10 week series of Nonviolent Parenting classes, classes on improving personal relationships, help preparing for and finding a career and other support services.  Dinner, diapers, bus tokens and food bank are given out every week at the end of each class session.
Current Classes:
Wednesday evening (5pm – 7pm) in Hollywood
Upcoming Classes:
Tuesday evenings (4pm – 6pm) starting in July at the Echo Parenting & Education office near downtown L.A.
Contact Ben Wright at bwright@echoparenting.org or 213-484-6676 x307  if you're interested and set up a time to come in and fill out the paperwork to get enrolled.
Additional Information about L.A. Fathers
This program is offered in conjunction with  several organizations to form a web of support for young families – Children's Hospital, Division of Adolescent Medicine, Peace Over Violence and Managed Career Solutions/Hollywood WorkSource.
We are able to do on site classes as well!  If you are an organization that has 10-12 young fathers, fathers-to-be or father figures and are interested in bringing L.A. Fathers to your site, please let us know.