Young Fathers Programs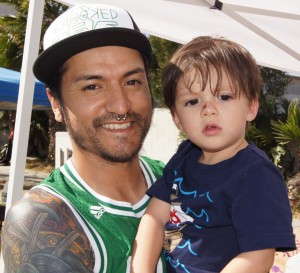 Echo Parenting and Education is excited to announce that we've received funding begin a new program for young fathers, ages 15-25. The program brings together several organizations to form a web of support for young families. We will be working in conjunction with Children's Hospital, Division of Adolescent Medicine, Peace Over Violence and Managed Career Solutions. Along with an adapated version Echo's parenting classes, young fathers will have access to case management, workshops on healthy relationships and job training and placement services. It is an important expansion of Echo Parenting and Education's services. This program is a comprehensive approach to meeting the needs of young fathers and families in Los Angeles.
All services are FREE of charge.
We are also pleased to welcome to Ben Wright, who has been hired to coordinate the program and run the parenting classes. Ben has been a long time volunteer and supporter of Echo Parenting and also part of founding group of The Peace School, a cooperative family child care that uses the Echo Approach as one of the cornerstones for care.
If you know any young fathers who might be interested in getting involved with this program please feel free to contact Ben at bwright@echoparenting.org to get more information on the program.