About Ruth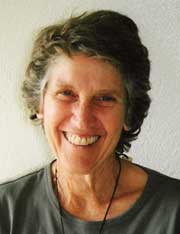 Founder of Echo Parenting & Education, Ruth Beaglehole has spent her life considering the needs of children, seeking support and nurturing for children as full human beings, using the principles of respect, healing and connection. Ruth's professional journey parallels her personal journey and has given her the empathy, courage and dedication that has fueled her groundbreaking work; creating a new paradigm of unconditional parenting that is the soul of Echo Parenting & Education.
Ruth's Beginnings
Ruth's story begins in New Zealand; born to Academic parents, with one sister and two brothers. Ruth's childhood was "complicated", to use her own words. Her own struggle would become Ruth's biggest asset. As she set off to heal her own emotional pains, her understanding of the parent/child relationship was transformed. She began to see the world in broad, loving, and ultimately profound terms. Her early interest in childhood education earned Ruth a B.A. in Education from Victoria University, New Zealand and a Diploma in Preschool Teaching (known in New Zealand as Kindergarten teaching).
Echo Park and The Playgroup – 1970
Ruth moved to Los Angeles and was immediately drawn to the community of Echo Park where she became involved in relevant issues of the day. This community energy evolved into the Echo Park Silverlake Child care Center, known fondly as the Playgroup. In its day, the Playgroup was a much needed, newly formed concept. A daycare center that serviced the working population of the community, it had humble beginnings in garages. After much work, it evolved into a city-funded program with it's own building, credited for amending city laws to allow child care in residential neighborhoods for the first time ever, simplifying life as we know it today.
Parent Education – An Awakening – 1982
After leaving Playgroup, Ruth became a Parent Education Teacher for Los Angeles Unified School District. Working with children, and then parents, awakened fresh ideas in her vast heart. She saw that parents needed nurturing and support and wanted information about child development and how to love their children. But there was a big gap for many parents; they simply did not know what to do.
Teen Mother Program – The Birth of Nonviolent Parenting – 1985
Seeking to broaden her skills as a Parent Educator, Ruth earned her M.A. in Marriage, Family and Child Therapy from Phillips Institute, Los Angeles. With her newfound degree, Ruth's work with Los Angeles Unified School District expanded with the birth of the model program she founded; the Teen Parenting and Child Care Program at the Los Angeles Technology Center. This program enabled teen mothers to earn their high school diploma while their children were enrolled in Ruth's child care program. It was this child care program that birthed the term nonviolent parenting. It was a simple genesis; while watching the teens scream and spank their children, she realized that their own early childhoods had brought these teens to a covertly violent style of parenting. Ruth made a commitment to create a bottom line within the walls of that child care center. "We would love, support and model nurturing to these children", recalls Ruth.
Center for Nonviolent Education and Parenting – 1999
Taken by the success of the program, Ruth was encouraged by the teen mother mentors and the community to extend the philosophy and practice, evolving into CNVEP. Ruth's big heart, her deep feelings for children, adults and humanity at large made CNVEP a thriving organization for it's first decade.
Echo Parenting & Education – 2010
In 2010, CNVEP underwent a branding change, and the same transformational work that Ruth had practiced for half a century now goes by the name Echo Parenting & Education. "Echo" because of the geographical roots in Echo Park, but also as a metaphor: when we are kind, that kindness echoes long after we are gone. In other words, when we raise children with care, we raise children to care.
Ruth Today
Ruth resides in Echo Park, rooted deeply in the community that has held her for more than forty years. Her three devoted children and seven grandchildren that connect her heart to her work, live nearby and support; often attending her parenting classes. Ruth remarks that as she watches them parent she knows that her philosophy works, seeing them love with more freedom and emotional competency than she started with. She has broken the cycle in her own family and that is very profound.